Rescue Minor
May 21, 04
Dear visitor,
It has come to my attention that due to certain liberties I have taken with poetic license in the stories I write for Messing About in Boats (29 Burley St. Wenham, MA 01984... $28 for 24 issues… comes every two weeks!) my credibility has come into question among some people who have not yet learned to believe every word I say. One of the things that continually surface is a hint of disbelief about my series of articles in Messing covering the building and performance of the radical "Rescue Minor" which is my bastardization of a William Atkin shallow draft Seabright skiff style tunnel boat. I took it to the big-deal Cedar Key messabout in an attempt to dispel a little of that skepticism.
Now, I am informed that there are people chatting in various chat rooms who doubt that the boat even exists because they have never seen a picture of it (despite a bunch of photographs printed in MAIB). One comment was, "Well, if it was a real boat, it would have been in "Launchings" in WoodenBoat. Well, I can lay that nonsense to rest right here: Here is the Rescue Minor at Cedar Key. You see… it says "RESCUE MINOR" right there on the transom. That photograph was taken by Cindy Pitt who is a very credible person (and pretty good with a telephoto lens, too). The reason I look so spastic is because I am steering with my hip while I try to unscrew the cap on my water jug with one hand while holding the spring-loaded throttle with my other hand. I think my hat brim has blown down over my eyes, too.
In case you have never read about the boat, I'll give you the specs: It is twenty feet long and 76" wide. It is strip built out of tulip poplar and is powered by a three cylinder Kubota Diesel tractor engine rated at 20 hp. It will run 20 knots in six inches of water and gets about 28.6 nautical miles per gallon of Diesel fuel running at its most economical speed of 10.5 knots. It is not for sale and I don't ever intend to build another one… certainly not for anybody else but me, but the plans for the unbastardized plywood version are available from: www.atkinboatplans.com.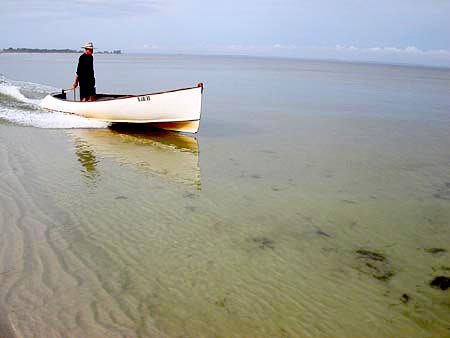 Click for larger image. Photo by Jane White.
That's 10.5 knots in a measured 6" of water. At 12.5k the forefoot runs exactly at the surface of the water. At 15.5 it is about an inch and a half immersed. At Atkin's designed speed of 17.5 (statute) the boat needs about 150 pounds in the stern to bring the bow up a little bit. If the engine weighed as much as Atkin's... wouldn't need that. I think he knew what he was doing."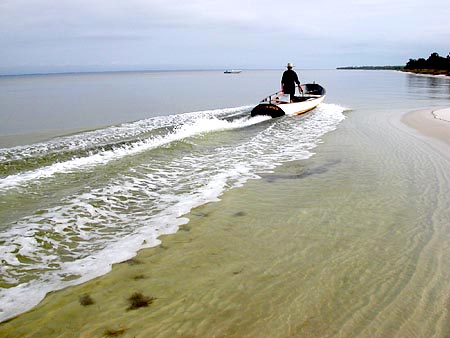 Click for larger image. Photo by Jane White.
That little rooster tail is always there either in deep or shallow water. I think it is a result of the "outflow" from under that complicated hull form re-forming itself back into something less complicated... a dissolution of confluences or something. There is very little disturbance to the sand on the bottom as the boat passes... doesn't even smooth out the ripples.
In case you need to see some more pictures taken by credible people, you can see them at: http://members.ij.net/wctss/wctss/cedar.htm You can see some of the credible people, too.